The fastest, easiest method of installing push lock hoses onto barbed fittings is with the EZ-ON HOSE PRESS. If you assemble a lot of push lock hoses, this tool will save you time, money, and frustration.
► Go to the EZ-ON Hose Press Product Page
Push Lock Hose Assembly
We created the EZ-ON Hose Press for push lock hose and fittings that are used in the automotive industry, but soon after it hit the market, we started getting inquires from the industrial, agricultural, and biotech industries.
The most common question we get is "Will your tool work with our hose and fitting" and our answer is always "yes" because the vise will clamp both straight and angled fittings…
…and if it doesn't, it can be modified to work with almost any type of fitting.
This is important because it's the angled and elbow fittings that are often the hardest to install because you can't just push them up against a bench or the floor. Also, a lot of hose assembly tools on the market aren't designed to work with angled fittings.
Push Lock Hoses
The EZ-ON Hose Press is so simple to use, it almost makes installing push lock hose fun.
Here are the steps:
Secure the fitting in the stationary vise.
Clamp the hose into the traveling carriage.
Push the hose over the first barb to get it started.
Use an impact gun or ratchet with a 17mm socket to drive the hose onto the barb.
Before there was a push lock hose assembly tool available, people would install this hose by using heat and/or lubrication. To heat the hose, you have to boil water or use a heat gun.
Heating the hose can be problematic because:
You can overheat the hose. This can cause the hose to become too brittle and could lead to failure.
It's not very convenient. What if you install hoses on location?
You can burn yourself. Okay, not likely. But handling boiling water has its risks. Why even put injury into the equation?
Dorman Fuel Line Quick Connectors
The nylon fuel line that is used for fuel injection presented a challenge to install with the EZ-ON Hose Press. Because of its small size and flimsy material, the line would tend to collapse or "accordion" when installing it.
To solve that issue, we designed custom clamps and adapters that secure the both the line and the connectors. The EZ-ON Hose Press installs the straight, elbow, and union connectors easily.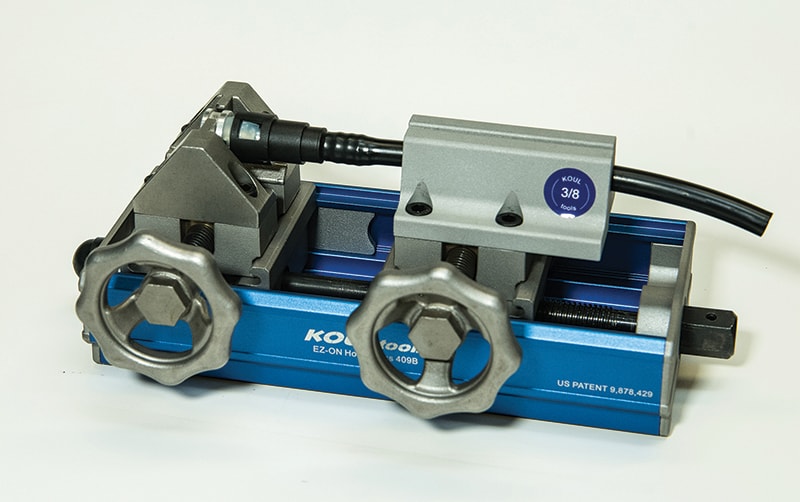 ► Go to the Nylon Fuel Line Tool Product Page
Plastic Tubing
Recently, we've had a lot of medical device companies come to us to help solve their problems of installing the small, plastic style tubing that is used on their medical devices.
At the time, we were not familiar with this style of tubing and fitting, so we got some samples for testing. When we received the samples, we couldn't believe how difficult it was to work with. The tubing is so small and so stiff that we could barely get them half way onto the barb.
Although the EZ-ON Hose Press was originally made for 1/4″ to 1″ hose sizes, the clamps that come with it are removable, so we were able to design clamps that work on 3/16″ tubing.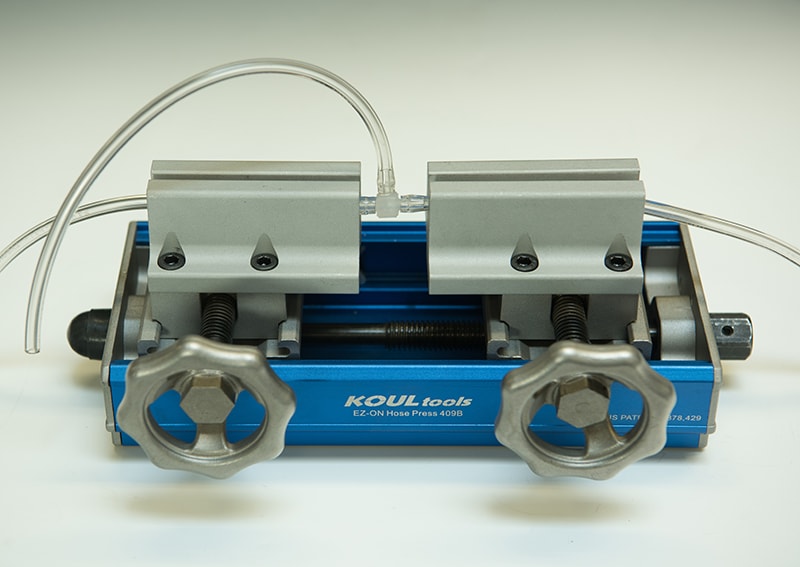 What People are Saying
"Wow, just WOW!
In a world full of disappointments, this bad-arsed tool does satisfy. Built like a tank, will last my lifetime, and makes a painful and difficult chore a breeze.  Pays for itself in one morning of quick and easy hose assembly. Grips so nicely that it will seat hose already covered in woven fiberglass fire sleeve. Too koul."
– Robert Taylor
"This tool is AMAZING!!!! We use the push locks on everything here at Nerd Rods from out custom fuel systems, to power steering return lines (not the pressure power steering line obviously) and oil cooling systems on the transmission and engines. Heck we probably use 12-30 ends on each chassis leaving our shop and at 14-20 chassis a year, that's A LOT of ends.
I did the first car with the push lock ends and had bruises on the insides of my palms after two days of fighting with them to get them all seated. Got this tool and did a whole car in a matter of hours. It paid for itself on the first car (in time alone). Here we are 20-30 chassis projects later and well over 300 ends, probably closer to 400, and we've finally worn out the little plastic jaws (just call, they have replacements if you use it that much).  It's a killer tool everyone should own, hands down!"
– Russell @ Nerd Rods
More About the EZ-ON Hose Press
The EZ-ON Hose Press is a great option for assembling push lock hoses. It's size and shape allow you to work in a small area or to take it with you to a job site. All you need is an impact gun or ratchet with a 17 mm socket.
Here are the details:
Installs 1/4″ to 1″ push lock hose.
Works with both straight and angled fittings.
Includes plastic vise jaw inserts to protect fittings.
Comes with a custom carrying case.