It seems to have become more difficult lately to install braided stainless hose all the way to the threads of AN fittings. Although it's not as problematic as inserting it into the fitting, it can be burdensome and needs to be addressed.
The first time we realized this was an issue was when we bought new hose for our KOUL tool demos at the SEMA Show last fall. The hose was noticeably stiffer and far more difficult to install. Then, after receiving comments from customers about this problem, we decided to look for an easy way to get the hose fully installed.
There are three types of AN hoses that we found to be more difficult to install than others. The first culprit is the -16 braided stainless hose we use. It's extremely stiff, making it hard to push all they way to the threads. Next, our -6 nylon braided hose is too flexible, making hard to get any force behind it. Finally, any of the smaller sizes can be difficult because it's just hard to fully grip them.
Install braided stainless hose in a snap
1. Use the Koultool to get your hose started.
2. Clamp the hose into AN vise jaw inserts.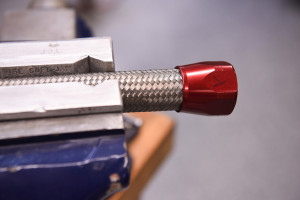 3. Twist and push the fitting onto the hose with a palm wrench.